"You must be mad?" "What about your pension?" "No one will pay your sick pay." "You'll be taking a wage cut." "If you need to come back to this line of work your current peers will be so much further ahead of you." "Don't you feel like you've wasted all this time doing engineering?" "So can you explain to me how 5 years of Scottish tax payer subsidised education in Engineering is going to benefit your music career?" 
"So what…" 
… Was what I eventually realised was the response to these questions and statements that I received on a daily basis when I decided to leave my engineering career to follow my dreams of making a career in music. 
I left Wick High School in 2012, having been awarded the Dux pupil of the school and with a solid set of qualifications. Prior to this I had to choose subjects for my Standard Grades in third and fourth year, Higher in fifth year, and Advanced Higher in sixth year. A problem I believe that exists in society is not allowing kids and young adults to do what they want. Instead, society moulds youngsters into doing the jobs that are considered "good" or "clever" jobs - often jobs that are required for the existence of society itself. 
Do 3 sciences, do academic subjects. There is such an unfair weighting by society (including many teachers and parents) on subjects that are considered "clever" over subjects that are not - unfortunately for us in the Arts, related subjects are the latter. And even within the Arts there are unfair weightings - music might be seen as a better subject to study than drama or dance. But this just simply isn't fair, neither is it true. 
If you find the 6th Year Yearbook for the Wick High School 2012 class, you'll find on my page an answer to the question "What is your worst memory of Wick High School" - "Higher English, all of it." or something to that effect. I guess this could be considered somewhat an apology to my then English teacher because as it would happen; and contrary to what I believed at the time; I use more of my higher English in my career as a songwriter, than I do my 5 years worth of Masters degree in Engineering. 
At the end of the day, and in many cases, it takes longer and more blood, sweat and tears to become a successful musician or actor than it does to become a doctor or engineer. Let me be clear - not for one minute am I devaluing these jobs or degrading those doing them. All I am saying is that they're no better or worse than the next job because to me, the definition of a good job or career, should be entirely an individual opinion. Someone sweeping the roads that is happy in their job and life is doing better than a mechanical engineer that dreads Monday morning and buys time to Friday night - in my opinion. I mean these days, you can make a career doing whatever you want with the opportunities provided by the internet. Food vlogger, travel blogger, make up tutorial creator, online gamer - you name it!
Anyway, rant over. The point I was trying to get to was that I chose all science, maths and technical subjects because I was good at them and I was heavily encouraged to pursue them. Would you believe it - I have NO musical qualifications. I'm not trying to blame anyone else for my decisions and I take full responsibility for them. What I am saying is that if society was different, I'd have chosen different subjects in school and realised how much more creative subjects meant to me and how they are just as important as maths or physics. 
Throughout my school career I often asked the question of how I would go about doing music as a full time career. But I knew it would be extremely hard, no one was supportive of it and I was good at academic subjects - so why not continue and get my qualifications? 
As a natural progression, the next chapter of my life would see me studying a degree in Electrical and Electronic Engineering at Heriot Watt University in Edinburgh later in 2012. Everyone said "get your degree while you can, and then you can do what you want once you've got it." It just seemed correct, the natural progression - and who was I to argue? 
During my degree, there were many, many times where I could have quit to do music full time. In fact there were times where I could have quit to do anything other than engineering. But during those times, it was easy to hide away from the fact that I wasn't doing what I knew I truly wanted to do thanks to the big city of Edinburgh. I made so many friends in Edinburgh, there were always so many things to do in the evenings, so many parties and nights out to go on. I also often had my next weekend gig to look forward to. This made getting through the tough parts of my degree easier. Little did I know I was becoming caught up in the rat race.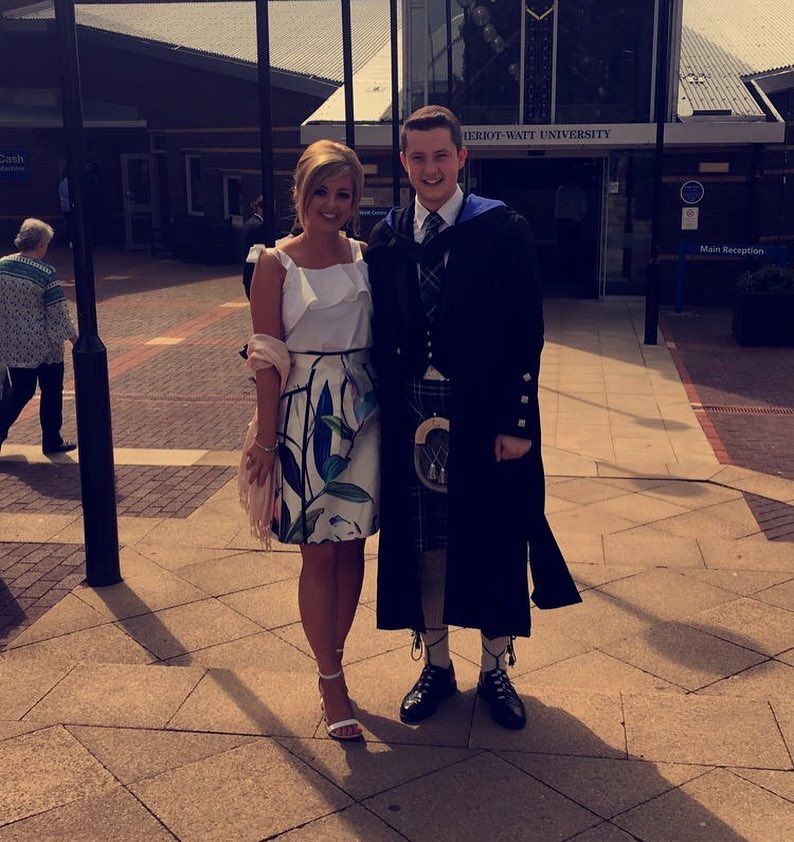 There were two options for my degree - a 4 year Bachelors degree, or a 5 year Masters degree that included a 6 month industry placement. Of course we were told that our degrees weren't really enough, and what we needed these days was practical experience to go alongside our paperwork. So with that, I found myself on the 5 year Masters programme. I graduated with a Masters Degree with Distinction in Electrical and Electronic Engineering in the spring of 2017. Don't get me wrong - I was and still am incredibly proud of my achievements in engineering. It is part of who I am and the entire experience allowed me to realise the things I realise about myself today. I also had the chance to meet some of the most amazing people that mean so much to me today, and will forever.
But who would have guessed - "Your degree alone isn't enough, you really need to build your CV up by getting yourself a place on a graduate scheme after graduation." So I did. Luckily, during my degree I carried out my industrial placement at a worldwide defence firm who have a base in Edinburgh and who took me on as a graduate engineer. For that I remain grateful and I met some amazing people at that company with whom I remain good friends. However, while this job was considered a "good" job, and while some people working for the same company love their jobs and lives (and I am genuinely delighted for those people), I did not. 
A friend once said to me "your job is much more clever than mine." I told him how much nonsense he was speaking. The only reason my job seemed like it was a "more clever" job, is because of the point I mentioned before. Designing a fast fighter jet radar is more clever than being a chef - incorrect. Most people in my old company couldn't write a menu, or fillet a fish, certainly not to the same quality or professionalism of a trained chef. And that same friend spent just as long training to become a professional chef as I did becoming an engineer. 
In a group of university friends, we would often make reference to a metaphor that we came up with which we called the 'moving walkway theory.' As in the moving walkways you race through airport terminal buildings on. We felt that from a young age - as I explained previously regarding the time of choosing high school subjects - that we were directed onto this moving platform that once you're on, it's hard to get off and almost impossible to change your direction. No 15 year old choosing their Standard Grade (or National 5 or whatever they're called now) subjects would realise that they were stepping onto a moving walkway that would hurtle them on their way to a planned out path of Highers, Advanced Highers, Degree and then career. Again, I must reiterate that this theory isn't true for all, because as some develop on their path they begin to, or just genuinely enjoy what it is they are doing - and that is fantastic for those people! 
Even once you're in your career you're still on the moving walkway. Complete the graduate programme, get promoted to senior or principle engineer to earn that bit more money or boost your CV. The trouble for me was - earning more money or getting promoted didn't motivate me because at the end of the day I wanted to have a career in music. One of my favourite Jim Rohn quotes is - "If you don't design your own life plan, the chances are you'll fall into someone else plan. And guess what they've got planned for you?… Not much." 
I began to really hate my job. I began to hate the 9-5. I hated being stuck in a routine. I hated the chase for the next promotion. I hated someone else defining my worth. I actually became quite miserable. I did things that I wouldn't have otherwise done in my personal life. My person changed, and I didn't like it. 
I went on like that for some months - buying time to Friday night and dreading Monday morning - until the big realisation... 
All of this was a choice.
Personal choices that I made. Choices for me, made by me. 
And that's what our lives are. A collection of the consequences and results of making choices. And remember, this is all very personal. The right choices for me, might not be the right choices for the next person. But the point here is that if you have made bad or wrong choices in the past; that led you down a path in life that you came to realise you didn't want to follow; after you realise this you can stop making those bad or wrong choices. Your past DOES NOT determine your future and everyone can make the choice to change. Once I took responsibility for my own choices I was able to stop blaming things on society and the moving walkway. While I believe they are among the reasons that I got into that situation, they had nothing to do with my ability to forget about them and make different choices about my life. Gary Vaynerchuk said, "I'm just always looking forward. I spend very little time looking backwards."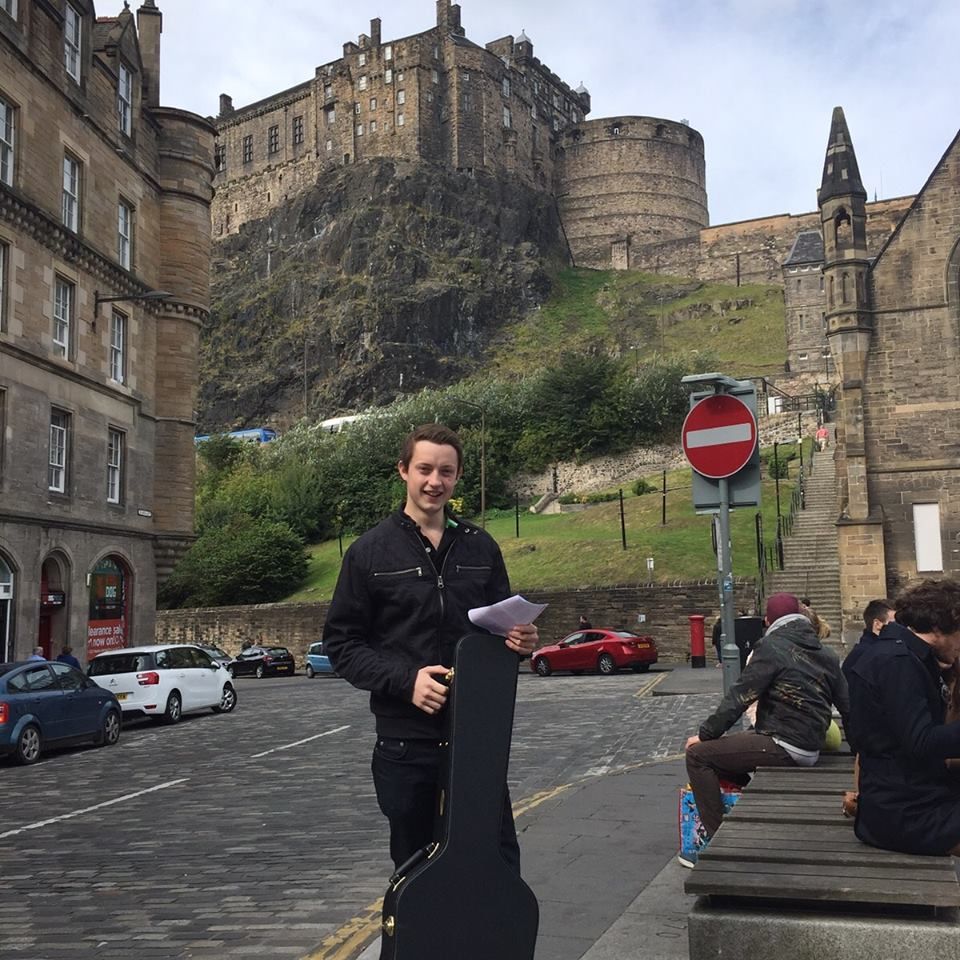 I loved Edinburgh, I still do love Edinburgh. But it was time to leave. I resigned from my job, worked my months notice, and began a career as a full time musician. For this to become a reality I had to move back into my parents' home. I took a small step backwards to allow myself to take a giant leap forward in my own life and personal development. 
I make my money through live sound engineering, session musician work, work with live bands and events while trying to build up my career as a singer, songwriter and performer. I earn less money than I did when I was in my engineering job, but I'm happy. Every day I have a purpose. Every day I can decide what I want to get out of that day for myself. Today it's writing this blog (and likely watching England beat Scotland in the Six Nations). 
Do not get me wrong. I am still delighted and proud to have a good engineering qualification and experience on my CV. I actually still use my qualification to do some other engineering work as and when I want. It will always be a skill that I have and can use again. It will always be a back up. There are always other options.
And if all this doesn't work out, I will always be able to say that I tried. You won't win the lottery if you don't buy a lottery ticket. Jim Rohn once said, "if you don't sow, you wont reap. You don't even have a chance." If there's something you want to do in life, do it. Take advantage of the fact that you have been given the gift of life. People say that "you only live once" is a cliché. It isn't a cliché - it's a fact. 
If you've made it this far - I genuinely thank you for reading all this and hope that it has brought you some value. To summarise, the big realisation that allowed me to quit a career job to follow my dreams was that everything in life is a choice and if you want to change your life, you have to make the choice to change. 
I'd like to go into some of the references and books or videos that helped me with this realisation - but I think that is material for another blog. Instead, I'll leave you with some inspirational quotes from some of those references and some of my idols. 
"Work harder on yourself than you do on your job" - Jim Rohn 
"If you make the mistake of looking back too much, you aren't focused on the road in front of you" - Brad Paisley 
"For things to change, you have to change" - Jim Rohn 
"Skills are cheap. Passion is priceless" - Gary Vaynerchuk 
"Despite everything, no one can dictate who you are to other people" - Prince 
"Tomorrow is the first blank page of a 365 page book. Write yourself a good one." - Brad Paisley 
"When you know what you want, and you want it bad enough, you'll find a way to get it" - Jim Rohn 
"There no longer has to be a difference between who you are and what you do" - Gary Vaynerchuk 
"You must take personal responsibility. You cannot change the circumstances, the seasons, or the wind, but you can change yourself. That is something that you have charge of." - Jim Rohn 
"Happiness is not something you postpone for the future; it's something you design for the present" - Jim Rohn 
"I'm the happiest because I'm doing exactly what I want to do" - Gary Vaynerchuk