I wanted to write another blog because the last one went down well and I had a few requests to write another. When I was trying to think about what to write about, I'd not long finished writing down my short, medium and long terms goals for my music career. That got me thinking of content for another blog post. I realise this is a subject where people can think "who does he think he is telling us this stuff when he hasn't achieved his own goals" - but that's not what this is about. I'm just sharing my journey with people that care and if this blog helps a single person, then that means more to me than the 10 people it pisses off!! 
Setting goals, I've come to find, is incredibly important for someone that wants to: 
Be more productive day-to-day 
Achieve something extraordinary 
Lose weight 
Gain muscle 
Save money 
Learn a new skill 
And the list goes on… 
How can you measure your progress and success if you don't have an idea of where you want to be in a week, a month, a year, 5 years from now?! For example, people spend hours and hours in the gym without any idea of a target weight to lose or target weight to lift in a specific exercise. Which might seem fine, but how can you actually take measure of how you're getting on if you have no idea what you want to achieve? How can you celebrate those small wins if you're not actually aware you've had one in the first place? 
These points often seem obvious once you realise them - but are not always immediately obvious to everyone (and weren't to me until recently). I don't think I am an expert on any of this stuff, I'm just learning it all as I go along.
You'll notice that I keep capitalising YOU and YOUR. That brings me to the main point of this blog. Setting goals for YOUR life achievements is, for me, two important things: 
Personal to YOU - i.e. not anyone elses business 
Relative to YOU - i.e. not to be compared or measured against anyone or anything else 
What you want to achieve and the timescale you want to do it in should be YOUR idea of success and happiness for YOUR own life. I'm not going to share my goals here, because I don't believe it's the place to do it, but what I will say is that I have laid out in great detail where I want to be and what I want to achieve over the next few years. But they're my goals, and they don't matter to anyone reading this.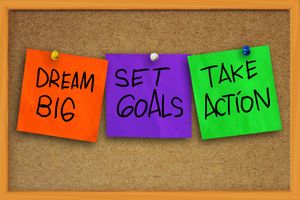 It's up to me to dedicate and commit myself, and go achieve them. But, it's not for anyone else to form opinions on or judge - even though they will. People will also assume your goals without even knowing them, and then judge you for having not achieved goals that they set out for your life... 
Don't let anyone make you feel bad or stupid for having big goals. The chances are that anyone that does that doesn't actually have goals for themselves - so what does their opinion even matter? Another tip for this is to let people who think your goals are unachievable or silly fuel your desire, commitment and dedication to reach them! 
And on that subject - make your goals big. Imagine the greatest success that would make you happy and feel successful, write them down and start working towards genuinely believing that you can achieve them (that's content for a whole different blog discussion altogether - I still have days where it seems impossible). 
You have to really believe that you CAN achieve something before you'll actually have the ability to do it. Did you take driving lessons with a deep belief that you would never be capable of passing your driving test? No! Did you learn to swim with the genuine belief that you would never achieve that and that anytime you went near water you were going to drown? No. And if you did, you soon altered that mindset as you continued working towards those goals. So why would you set out goals for yourself that you're not sure or don't believe that you can achieve?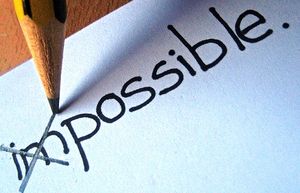 My singing teacher Raymond Bremner used to call me Mikie "I can't" Henderson - because he'd tell me to do something and I'd take a huff, throw my arms down and say "I can't." There will probably still be times that I'll do that in the future - I'm sure of it. But what I have realised is how utterly ridiculous a statement that is/was. Because if I genuinely believed I couldn't do it - then I was wasting both Raymond's and my own time! 
Time for a controversial belief - argue with me if you think I'm wrong: 
IT DOESN'T NECESSARILY MATTER IF YOU ACHIEVE YOUR GOALS OR NOT WHEN YOU ENJOY THE PROCESS OF WORKING TOWARDS THEM 
I touched on it in my last blog (https://mikiehenderson.com/blog/blog/the-big-realisation-that-allowed-me-to-quit-a-career-job-to-follow-my-dreams) that as long as you're happy and enjoy the day-to-day process of working towards your goals, then it doesn't actually matter if you achieve them or not - the point is you are trying and you are actually enjoying trying. If you achieve them - fantastic. If you achieve some of them - great! If you don't achieve any of them - well, you tried and you enjoyed trying. What's the worst thing that's going to happen in that situation? The person that said your dreams were unachievable or silly is going to say "I told you so." And that's about it. But you'll always be equipped with the ability to say you tried, and you enjoyed the process of doing so. 
That brings me to another point - your goals aren't set in stone for the rest of your life. I've gone back to square 1 in my life to start everything again and achieve goals I've set out for myself. But eventually, my lifestyle or circumstances might not align with my aspirations or happiness. For example, I'm back living at home with my parents after over 6 years away. It's great being back, I'm extremely grateful that they've taken me back in (no questions asked) and for now it's allowing me to really work towards my goals in the best possible way. But in 5 years time, if I've not made the progress in music that I wanted to, and I no longer want to live in the family home and having my own place again becomes a higher priority than chasing some of my pre-existing goals - then guess what? They can be changed, reprioritised and reordered. As you work towards your goals your vision might change - just like my vision changed when I was working towards my engineering career and realised I wanted to do music full time. 
Make sure that working towards your goals brings day-to-day happiness - because happiness is a NOW thing. You shouldn't be happy once you've achieved your goals, you should be happy as you're working towards them and then celebrate once you reach them.
So to summarise the key points: 
Goals are important to measure progress, stay on track, and celebrate small wins 
Goals are personal to YOU and shouldn't be the concern of anyone else 
Goals are relative to YOU and YOUR life and shouldn't be based upon or compared against someone or something else 
Make YOUR goals big and don't let anyone make you feel silly for it 
Get to work on genuinely believing that you can achieve YOUR goals, no matter their size or significance 
It doesn't matter if you achieve YOUR goals or not if you enjoy the process of trying to 
YOUR goals can always be changed, realigned, reordered or reprioritised 
Set goals that you will feel happy working towards every day
I have loads of resources on how to write goals, track goals, and all the mindset stuff I've touched on in this blog when it comes to believing in yourself, dealing with people who don't share your vision/haters, etc. If anyone wants more information on any of this, I'd love to hear from you - send me a message on Facebook or Instagram/send me an email and I'll get back to you as soon as I can. 
Go have fun writing YOUR goals! :D